Cancer Research for Children - CureSearch, (National Childhood Cancer Foundation)
Where There's Will Morgan, There's a Way.
Like most eleven-year old boys, Will Morgan loved playing football and baseball. But, when he started noticing pain in his right leg after practicing, he knew something was wrong.  In October 2009, Will was diagnosed with Ewing's sarcoma in his right femur. This rare disease in which cancerous tumors are found in bones and soft tissue is diagnosed in approximately 250 children and adolescents a year in the United States.  Found mostly in children between the ages of 10 and 20 years old, there is a slightly higher occurrence in males than in females.  For the next year, Will spent the majority of his time on crutches and in fear of breaking his leg. Needless to say football and baseball – sports that he once excelled in, were no longer an option. He underwent 14 cycles of mostly in-patient chemotherapy, one surgery to reconstruct his damaged bone, and ankle surgery. Will had to learn to walk again through physical therapy, which he still undergoes today, due to the shortening of his right leg and extreme weakness in his toes, hips, and knees. 
Where there's Will, there's a way.
Thirteen-year old Will is not going to let cancer get the best of him; instead, he dedicates his time to raising funds for children's cancer research so that other children have a chance at fighting this disease. Both Will and his family have participated in The CureSearch Walk – Dallas, to raise funds for children's cancer research. "It's a walk for other patients, because there's always new ideas and new doctors" says Will. Raising almost $25,000 for children's cancer research, his team "Will to Win" has been the leading Dallas fundraising team for the past two years.  Speaking of dedication, in 2010 Will wanted to walk the entire CureSearch Walk.  But, his treatments and surgeries had taken their toll and he was unable to walk more than 20 yards.  He completed the Walk in his wheelchair.  This year, Will not only completed The CureSearch Walk on foot, he spent the rest of the day speaking to golfers at the MJ Golf Classic and playing 18 holes of golf – a sport he is able to play, despite limitations from his treatments. 
 Will has also participated in the CureSearch night at a Frisco Rough Riders minor league baseball game and was the inspiration for the "Put a Cap on Cancer" drive led by his school choir to raise funds for CureSearch.  CureSearch commends and thanks Will for being such an inspiration. His dedication brings us closer to finding a cure for all children's cancers.
Northeast Kingdom Community Grown Farm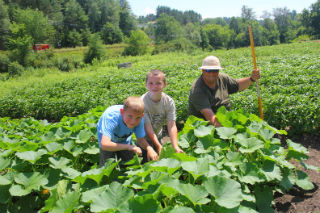 Green Mountain United Way working with the Northeast Kingdom Community Grown Farm, has as its purpose,  to grow and distribute free, high quality produce, using sustainable practices, for donation to food shelves and charitable food centers throughout Vermont's Northeast Kingdom. Also, the farm is used to educate the community on ways to improve its health, the environment and general well being.
The farm, on Old Center Road in St. Johnsbury was founded by Faith In Action Northern Communities Partnership in 2009 when a local landowner donated the use of 3 acres of riverside farmland. All food grown on the farm goes to food shelves, meal centers and other charitable food outlets throughout Vermont's Northeast Kingdom. This has helped many people who cannot afford quality produce to eat  more nutrition  food.  In the 2011 growing season the farm produced 8,750 pounds of squash, 1,500 pounds of potatoes, 345 pounds of carrots, 20 pounds of radishes, 450 pounds of lettuce, 200 pounds of green beans, 850 pounds of spinach and 350 pounds of cabbage.
The vision of the community grown farm is to give the citizens of the Northeast Kingdom the skills and knowledge needed to make healthy lifestyle decisions around food while striving together to grow enough food to end hunger in the area.
Humane Society Vermont Animal Shelter
Please visit the following links for stories on what VT is doing to help our fallen animals.
Financial Literacy Workshops
Introduced Financial Literacy programs to area High Schools.  In partnership with local banks we have presented Financial Literacy Workshops to the senior classes.  During the last two academic years we have been to nine different high schools and have conducted 28 workshops. Topics ranged from balancing a checkbook to understanding credit and how one's credit score impacts buying power. One school has added Financial Literacy to its curriculum and we are confident that other schools will follow.
The Community Garden 
In collaboration with others took advantage of a local land owner's offer to turn  a section of his dormant land into a Community Garden. The food that was produced during the last growing season was donated to area Food Shelves and Free Community Lunches offered by area churches. The Community Garden yielded 8,750 pounds of squash, 1,500 pounds of potatoes, 345 pounds of carrots, 20 pounds of radishes, 450 pounds of lettuce, 200 pounds of green beans, 850 pounds of spinach and 350 pounds of cabbage. This year's growing season is underway and we expect a similar yield.
FamilyWize
Began participating in the FamilyWize prescription drug savings card program, we have assisted Vermonters in our five county region receive more than $94,000 in savings.  The easy-to-use savings card program allows program participants to receive discounted prices on name brand and generic prescriptions at both large and local pharmacies throughout Vermont. 
Local Flood Center in Barre
In response to the spring flooding in Central Vermont, we mobilized a community-wide effort to staff a local flood center in Barre.  During the first three weeks of operation, representatives from more than 11 local organizations and state agencies assisted flood victims at the center, contributing more than 388 volunteer hours to the effort.  We are currently gathering community partners to form a long term local recovery committee to assist flood victims with their long range recovery needs, and participating on the long term recovery committee on the state-wide level.
National Down Syndrome Society's My Great Story
Who Doesn't Love A Good Story? A Unique Public Awareness Campaign Gives Voice to Those Who Want Their Stories Heard.
The National Down Syndrome Society's My Great Story public awareness campaign seeks to ignite a new way of thinking about people with Down syndrome by showcasing and collecting inspirational stories told by people with Down syndrome as well as their family members, friends, colleagues, employers and many others. The My Great Story collection features stories from 44 states, including Vermont. One particularly moving story is by Vermont resident, Lisa Nicholson, about her daughter, and can be viewed here.
"My daughter is 'special,' she is 11 years old and she has Down syndrome," Nicholson begins, "In fact, every single person/creature in this world is 'special,' brings something to this world that cannot be replicated and should be cherished. Value is not related to IQ, employment, academics, looks, physical accomplishments, health, money, homogeneity, rate of development, mobility, speech, hearing, seeing any of it. Value is intrinsic; worth is about being in the world, period." Nicholson's inspirational story joins hundreds of others in the My Great Story collection.
Anyone can visit The National Down Syndrome Society to read and share their stories, or to vote and comment on those already in the collection. The online storybook contains several different sections including school, work, hobbies, travel, friends and many others. Two of the stories have been turned into print ads titled 'The Traveler' and 'The Public Speaker.' The campaign has also been featured in a 30-second public service announcement starring TV Hosts Nancy O'Dell and Meredith Vieira, and Actors John C. McGinley and Chris Burke.
The My Great Story campaign, has garnered strong visibility across the country. To date, over $6 million has been donated in national and regional ad space and services. The campaign has been seen by over 225 million people across the country and featured in media outlets such as Allure, Fortune, Glamour, Newsweek, Self, Time, USA Today and Vogue, among many others. The My Great Story campaign has attracted other types of media as well, including placements in bars, checkout counters and hospital patient and waiting rooms.